© Underdog Heavy Industries 1969-2011








Friday September 21st 2011
St. Stephens Primary. The Treehouse roof is finished at last. Bad weather (lots of
wind and rain) has made roofing unpleasant so we've been continuing with other
work until we got a dry day. Had to get up above the roof to really see what it
looks like. The tree coming through it looks dramatic.
Friday September 14th 2011
St. Stephens Primary. Part way through the fitting of the cedar shingles on the St.
treehouse.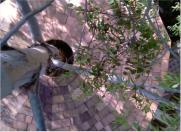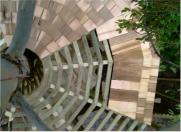 Friday July 1st 2011
Completed the bat-phone at Malorees Infant School. Laurie and Henry finished the
painting and we now have spiral-striped tubes, somewhat reminiscent of sticks of
rock. It sounds pretty good too; we've given them an octave of naturals C, D, E, F, G,
A, B & C - enough to play simple tunes.
Friday June 24th 2011
Finished planting at Malorees. The picture here shows the bed right outside the hall.
They've had planty of water but hoping that it's not too dry for the next couple of
weeks.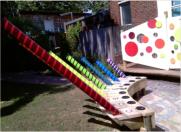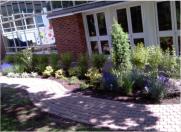 Friday September 7th 2011
St. Stephen's Primary. The treehouse roof looking very interesting with all the battens
in place, awaiting shingles. Not entirely sure that it needed quite so many faces but it
does look rather nice like this with the tree-top showing through.
Friday September 2nd 2011
St. Stephens Primary. The wet-pour rubber was completed today. We've laid
bright golden yellow around the tower and treehouse, extending out into the
tarmac area. The colour shows up especially vividly against the black of the
tarmac.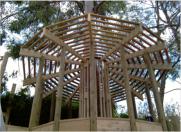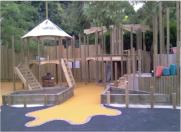 Blog